Good morning! I don't really feel like a new author anymore, but my first ebook came out at the beginning of October, so I guess I am. It's hard to believe it hasn't even been two months!
My first release, Morningstar, is set in the post-apocalyptic future where vampires prey on a dwindling human race. Morningstar is a legendary vampire hunter, said to have killed more of them than any other. When he encounters an ancient vampire who doesn't make any attempt to kill him, and an attraction is sparked between them, the fun really begins.
Nearly all my stories are M/M. The dynamic between two men is simply what I find appealing. My second release, Cold Hands, Warm… is for the Phaze Snuggler line.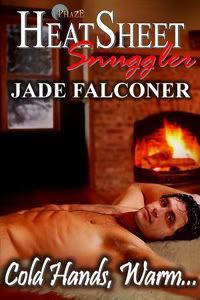 It's gotten quite a few lovely reviews and was even #1 on the Fictionwise.com erotica bestseller list. And for under $2, you should check it out.
Now, as today is my blog day here on the Phaze blog, I have more to say, but that will have to wait for my next post. Stay tuned.
www.jadefalconer.com