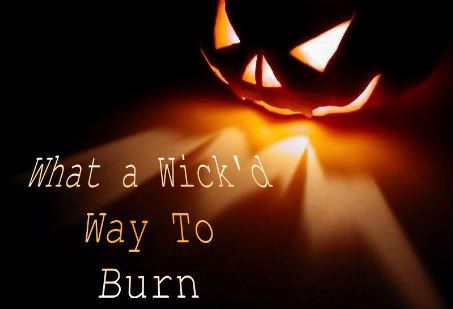 Featuring many HOT and EXCITING Prizes from many Wick'd Participants!
Entries Accepted September 15th - October 15th and the Drawings begin October 16th - One Winner Per Day!
Enter now at
Wick'd Reads
!
(Entry Rules and Details
here
)
Drawing # 1, October 16
Flicker Fusion Candle from Wick'd Reads, in association with FLICKER WARRIORS and Author William Maltese, scented in Berry Spice Fusion
www.myspace.com/flickerwarriors
www.wickdreads.com
Drawing # 2, October 17
Autographed Copy of SUCKS! From Internationally Best Selling Author William Maltese and a pair of SUCK! Boxer Shorts!
www.williammaltese.com
Drawing #3, October 18
DEATH by Author Dorlana Vann on Disk and a DEATH Bookmark
www.dorlanavann.com
Drawing #4, October 19
The Artist Challenge T-Shirt from The Artist Challenge
www.theartistchallenge.com
Drawing #5, October 20
Book of Reader's Choice from Author Karen Michelle Nutt [PDF Copy]
www.kmnbooks.com
Drawing #6, October 21
Sexy Tote filled with Goodies from Author Tilly Greene
www.tillygreene.com
Drawing # 7, October 22
3 Hot Pdf copies from Author Jasper McCutcheon: I WAS TORTURED BY A PYGMY LOVE QUEEEN, THE BLACK POUCH CRUSADER, and SCREW HIM
www.jardonnserotictales.com
Drawing #8, October 23
Tartan Interlude Candle from Author Selena Illyria, scented in Spiced Cherry
www.selenaillyria.com
Drawing #9, October 24
Pdf copy of The Vampire Collection, by Author BellaDonna Drakul
www.myspace.com/thevampirecollection
Drawing #10, October 25
3 Autographed Books from Internationally Best Selling Author William Maltese! TUSKS, SNAKES, and A SLIP TO DIE FOR
www.williammaltese.com
Drawing #11, October 26
ABRAXAS Vampire Gift Set from Author Mistress Rae
http://bloodtouch.webs.com
Drawing #12, October 27
2 Pdf book copies from Author Kate Hill: DOING THYME, and HUNGER
www.kate-hill.com
Drawing #13, October 28
Sex Bomb Candle and Scent Chips from Candle Artist Jfay, Studio 3B, scented in Strawberries and Champagne
www.studio3bonline.com
Drawing #14, October 29
2 Autographed books from Author Jardonn Smith: THE TORTURED SECUTOR, and DANUBE DIVIDE
www.jardonnserotictales.com
Drawing #15, October 30
Build Your Own Pendulum! From Parawomen Scream Radio
www.blogtalkradio.com/League_of_Extraordinary_Paranormal_Women
Drawing #16, October 31
Blood Vial Gift Set and BITE ME Thong from Vampire Wear!
www.vampirewear.com
What A Wick'd Way to Burn Extravaganza shall be a seriously HOT lead up to November!
The picture above was created by Amy, from
Parawomen Scream Radio
- thank you!
Tilly Greene
WARNING! Red hot romances ahead!
www.tillygreene.com